Pontian Baru's Operation Commander of Fire and Rescue Station (BBP), Mahadir Mamat claimed that his team received an emergency call regarding the incident around 5.30pm on 11 October recently. He too added that seven other crews with Fire Rescue Tender (FRT) vehicle as well as the Emergency Medical Rescue Services (EMRS) were deployed to the scene.
The three victims aged in / around their 30's were recognised to own no identification documents when they were found by the beach, said the authorities.
"The bodies of the three victims were stranded among the mangrove trees and were found by the villagers while they were fishing, while their boat was found stranded on the beach this afternoon," he said when contacted here today.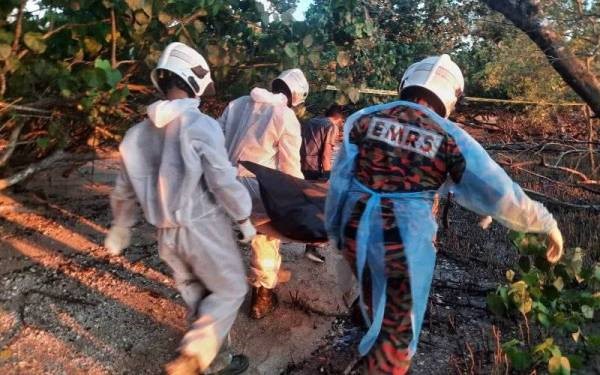 Firefighters carried the bodies in the scene, Pontian
"The boat sinking incident is believed to have occurred early in the morning due to a storm in the coastal area," he clarified. "It is suspected that the victims were attempted to sneak into the Malaysian border through the country's water via Pantai Rambah."
Mahadir Mamat told that the distance between those three stranded unfortunate victims in the crevices of the tree were approximately 50 meter and the victim's bodies were then handed over to police for further action, and the operation ended at 7.15pm.
In the midst of tough situation of Covid-19, the tragic accident is indeed a sorrowful loss to hear and here we extend our condolences to the victims' family.
*Sources: Visual and Reference Credits to Sinar Harian, Berita Harian, and Balai Bomba Pontian Baru.
FOMO much? Follow our Facebook and Instagram for more updates.