by Mitchell W.
Just a little intro about Malaysia Gifts Fair; it is one of the most innovative and largest gifts, premium and stationery fair in ASEAN.
This year's exhibition saw to more than 350 booths featuring over 20,000 gift ideas from local & overseas exhibitors.
In conjunction with this event, the Power of Gift Giving Students Short Video Contest was organised by Malaysia Gifts Fair and supported by Film Directors' Association of Malaysia (FDAM).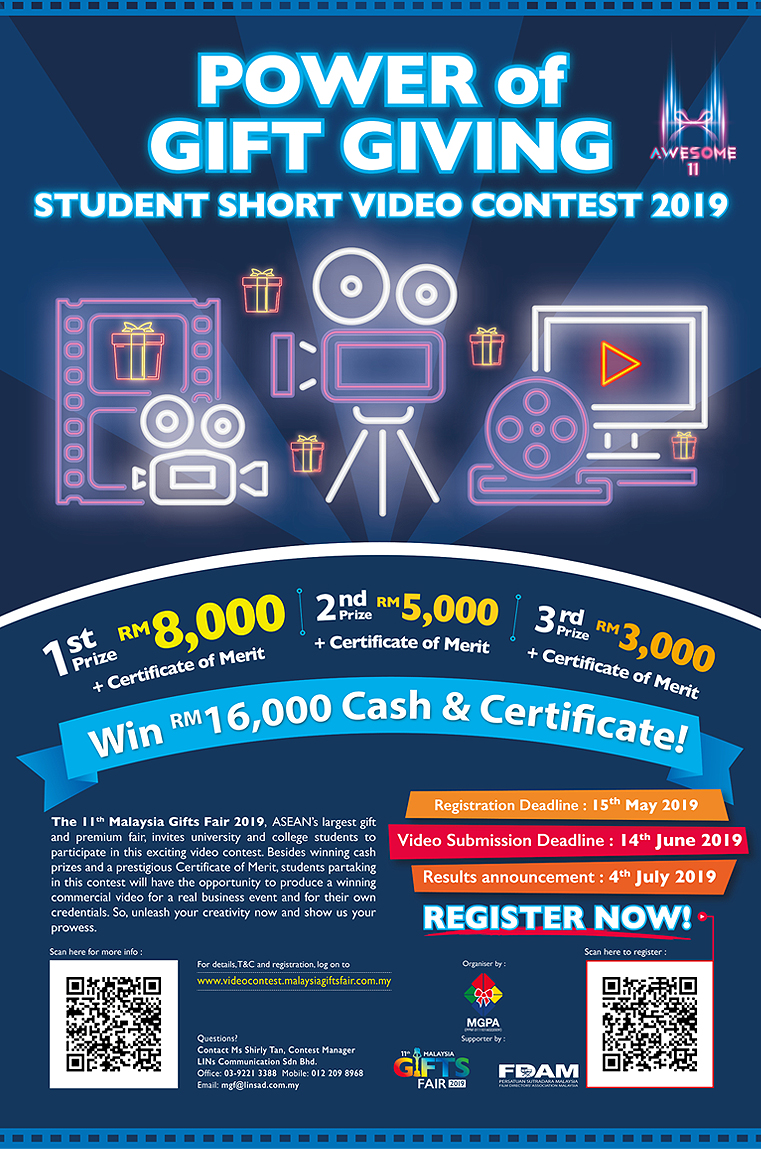 A group of talented students from The One Academy had participated and emerged victorious!

(from right) Chloe Chue Sook Leng, Shawn Siew Rong Jin, Tan Wei Zun, Khor Shing Nam, Low Yong Sen receiving their prize and certificates
Congratulations to Khor Shing Nam, Shawn Siew Rong Jin, Low Yong Sen, Tan Wei Zun and Chue Sook Leng for their short video 'Father's Gift' -- a tale of Dennis who hails from a poor family with a colour blind and mute father. Although they are very poor, his father still buys birthday gifts for Dennis every year without fail. The story picks up on a particular year when his father accidentally buys a pink shirt for Dennis as a gift. The gift is rejected as Dennis has had enough of seemingly childish presents. He also wishes for a father who can understand him and his wants better. However, in it hits home that it is him who has failed to understand his father.
They bagged second place winning a cash prize of RM5000 as well as Certificates of Merit.
"If you don't try, you will never know!" exclaimed Tan Wei Zun.
The One Academy is committed to providing the best art education programmes and continues to nurture its students passionately through its 'Masters Train Masters' coaching philosophy, which has been practised for the past 28 years, by providing diploma and degree courses namely Advertising & Graphic Design, Digital Animation, Digital Media Design, Film Visual Effects, Interior Architecture & Design, Illustration, Fine Arts and Paris Fashion Design & Pattern Making.
For more information on The One Academy, visit www.toa.edu.my or call (+603) 7875 5510 or e-mail your enquiries to [email protected].