Imagine attending a school where you are constantly gaslighted into thinking that you are wrong just so the school could force their own beliefs onto you (Honestly sounds like 90% of schools everywhere).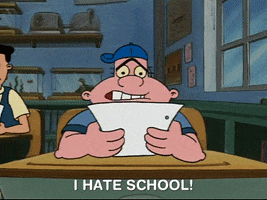 A former high school student knows it all too well after years of fighting for her right. The battle has officially ended with the student receiving a compensation of 330,000 yen ($3,190) in damages by Osaka Perfecture.
The plaintiff (now 21 years old) was 18 when she sued Osaka's local government in 2017 after her school forced her to dye her natural brown hair to black which resulted in rashes and her hair being damaged.
(Street in Osaka) Image via Japan Guide
While studying at Kaifukan Prefectural High School, she had informed the school repeatedly that her hair is naturally brown but was dismissed after the school concluded that her roots were black and demanded her to dye it 'back' or quit school.
(Kaifukan Perfectural High School) Image via The Japan Times
The situation only became worse when the school decided that her hair wasn't black enough after she dyed it. The poor former student suffered emotional trauma from the incident.
After leaving the school in 2016, the student demanded 2.2 million yen ($21,250) in her lawsuit. The judge eventually deemed Kaifukan Prefectural High School's decision to be legal but damages were still ordered by the court to be paid.
(Pictures for illustration purposes only) Image via The Japan Times
The student's name was removed from the attendance list after she stopped going for classes. The school accepted the court's decision and doesn't plan to make an appeal.
The school said in a statement, "We have not change our standard of having students who have dyed their hair previously to dye it back to black, but this case has been a learning experience, and we will be giving greater thought on how to guide our students better".
We are so glad that the student finally got what she deserved although the compensation is much lesser than what she asked for. We hope that the school will seriously revise back their guiding methods and not just make the statement 'for show'.
Credits to Next Shark for the initial coverage.
FOMO much? Follow our Facebook and Instagram for more updates.