I'm sure a lot of us reading this would know the iconic French duo, Daft Punk and sad to say that they had announced their split after 28 years.
Guy-Manuel de Homem-Christo (gold helmet) and Thomas Bangalter (silver helmet) had confirmed their split in an eight-minute video titled "Epilogue" which was a short taken from their film Electroma back in 2006 as confirmed by Daft Punk's publicist. The two had ended their 28-year stint off with a bang (quite literally).

Image via Fonts In Use
Watch their Split Up video here:
The electro group started in 1993 as they emerged in the techno and house music scene in Europe and they later ventured into pop music and toured globally. Daft Punk had stapled themselves in the music scene with albums such as their 1997 Homework and 2001 Discovery. Not to forget their famous singles such as "Around The World" and "One More Time".

Image via Dj Mag
For them anime lovers, don't forget that their "One More Time" music video featured the characters from Interstella 5555: The 5tory of the 5ecret 5tar 5ystem. The Discovery album was in partnership with Toei Animation and manga artist Leiji Matsumoto.
Throughout the 2000's they had retreated to stay behind their helmets and their signature helmets and did not make much of a public appearance and interviews.
Fast forward 7 years to 2007, they paired up with rapper Kanye West for his song Stronger.

Image via SoundCloud
The duo then performed at the Coachella Music Festival with one of the "most expensive and absurd" performance in their history where they debuted with their now iconic pyramid figure stage.

Image via WERAVEYOU
As they were booming through the elector music scene, the duo managed to score and produce the soundtrack from the 2010 Tron: Legacy film. Since their outfit matched the theme of the movie, they were even given their own scene in the film!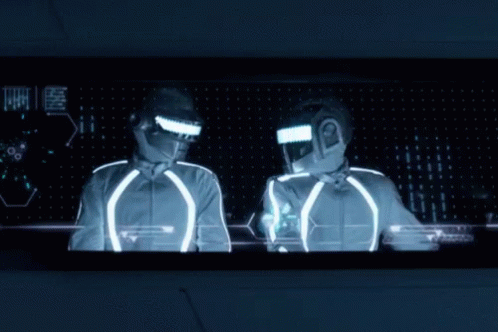 The last album that was released by the group was in 2013 titled Random Access Memory where the music in it were focused on the American roots of funk and disco and live instruments. Their hit song from that album featured Pharrell Williams and won multiple Grammy Awards from it.

Image via USA Today

So far there is not future plans for the two and guess we'll wait and see.

Image via cnet
Thank you, Daft Punk for all the great music!
Credit to The Verge for the initial coverage.

FOMO much? Follow our Facebook and Instagram for more updates.