Nowadays, you can literally purchase anything online and I really mean anything. Due to everyone needing to be at home and you likely can't or don't want to go out and catch Covid-19, you'll opt for online shopping instead.
Well, we all know the issues of courier services as they tend to toss around our packages and our items will get damaged in the process *cough* Not going to say who but if you know, you know. *cough*.
If you thought your experience was bad, then you probably did not have it as bad as this woman. Lui, who is from the Anhui Province in East China had ordered an iPhone online and spent 10,099 yuan (~RM6,100) for the iPhone 12 Pro Max with 256gb of storage.
But wait, that doesn't sound that bad…nope, you thought wrong.
Upon receiving her item, she was disappointed as she didn't receive her phone but received a box of apple-flavoured yoghurt drink instead.

Image via Apple Insider
In total disappointment, she took this to social media as her video was spreading across Weibo. She states that she did not directly received her package from the courier as he had informed her that he had put the package in the resident parcel locker and did not complain about it.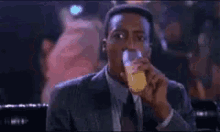 I'd probably spit my drink if this happened to my friend.
Lui lodged a police report on the incident and they had mentioned that her case appeared to be one of theft. China's Apple and Express Mail Service (EMS) also told Lui that they will launch an investigation to her missing phone.
A few days later, the police had arrested a 31-year-old suspect surnamed Long at his apartment in Anhui. Long had confessed that he took advantage of the transporting cargo between Anhui and Shanghai between 6th and 18th February and when he noticed the iPhone, he had switched the items in it.
The investigation of the parcel exchange is still being conducted.
We are not sure if she ever received her phone, but we hope that things like this would not happen to us fellow Malaysians. I can't imagine how someone would feel if this were to happen to them.
What would you do if this happened to you? Let us know in the comments!
Credits to Global Times for the initial coverage.

FOMO much? Follow our Facebook and Instagram for more updates.