This past week has been an emotional roller coaster ride for Malaysian mothers seeking to confer citizenship to their children born abroad to foreign fathers.
After the government's appeal against the High Court's ruling to automatically grant citizenship to children born overseas to Malaysian mothers and foreign fathers, the six Malaysian mothers and people at Family Frontiers who filed the lawsuit, launched an online petition on Change.org to call on the government to withdraw their appeal.
On 9th September 2021, the KL High Court made a landmark ruling to grant Malaysian mothers the right to pass on their Malaysian citizenship to their children who are born abroad to foreign fathers.
This comes after a long battle where Malaysian mothers have fought for the equal right to be granted the same privilege as Malaysian fathers who are easily able to pass on their Malaysian citizenship to their children who are born abroad to foreign mothers.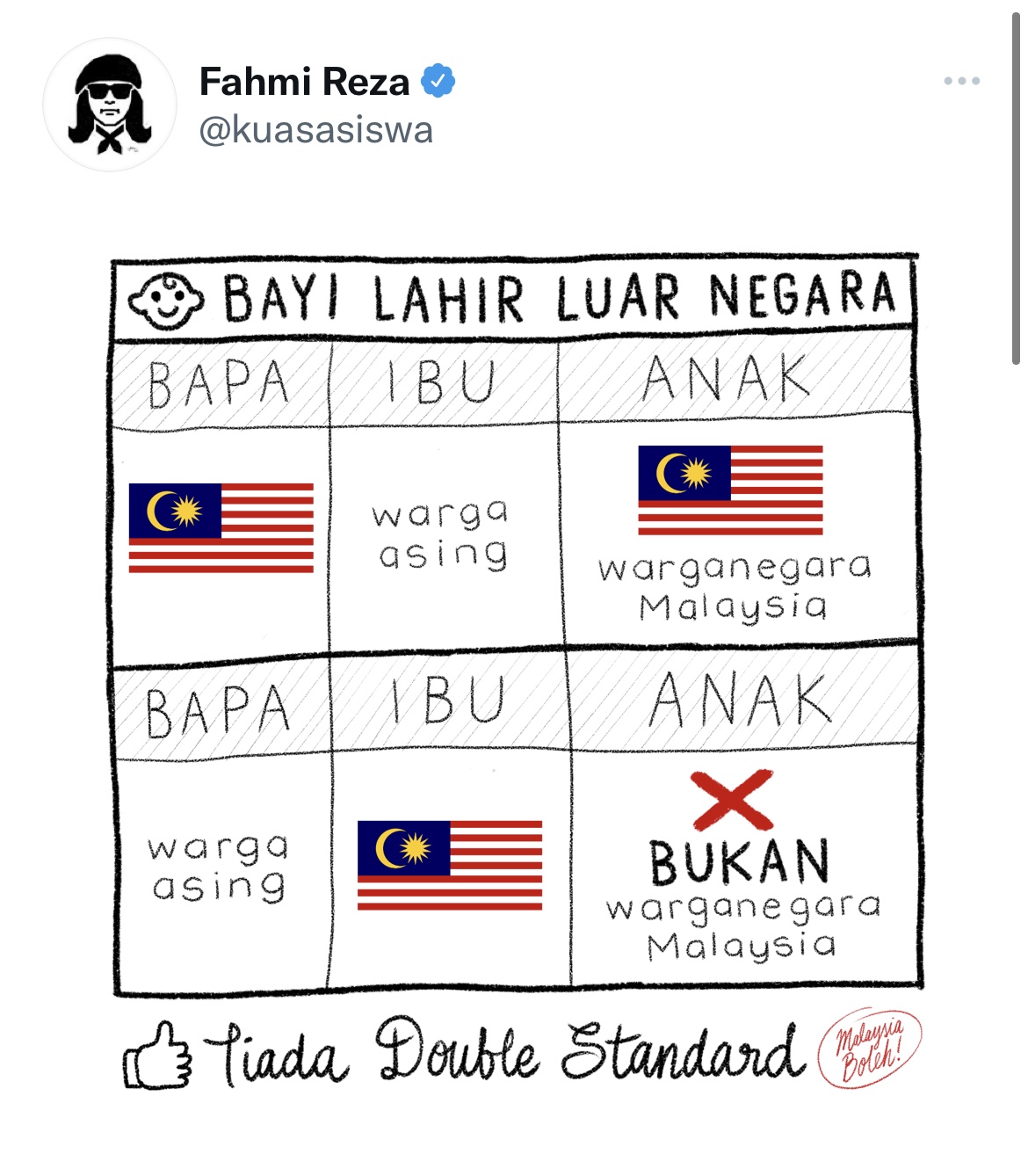 The double standards are glaringly obvious. What does the government have against Malaysian mothers?
High Court judge Dato' Akhtar bin Tahir ruled that Malaysian mothers should no longer be discriminated against as the word "father" in the Federal Constitution must be read to include "mother" as well, therefore entitling their children to citizenship by operation of law.
"The grievances of the plaintiffs are real…the discrimination is apparent."
However, on 13th September 2021, the government decided to file an appeal against the High Court's ruling.
This came as a shock as the High Court's ruling seemed like a step forward but the government's appeal felt like two steps backwards.
"The judgement lifted the anxiety that plagued us with uncertainty of our children's status, well-being and future."
With how children born abroad to Malaysian mothers and foreign fathers have to face discrimination and suffer unequal access to basic rights such as education and healthcare, Malaysian mothers were relieved to finally be heard and seen.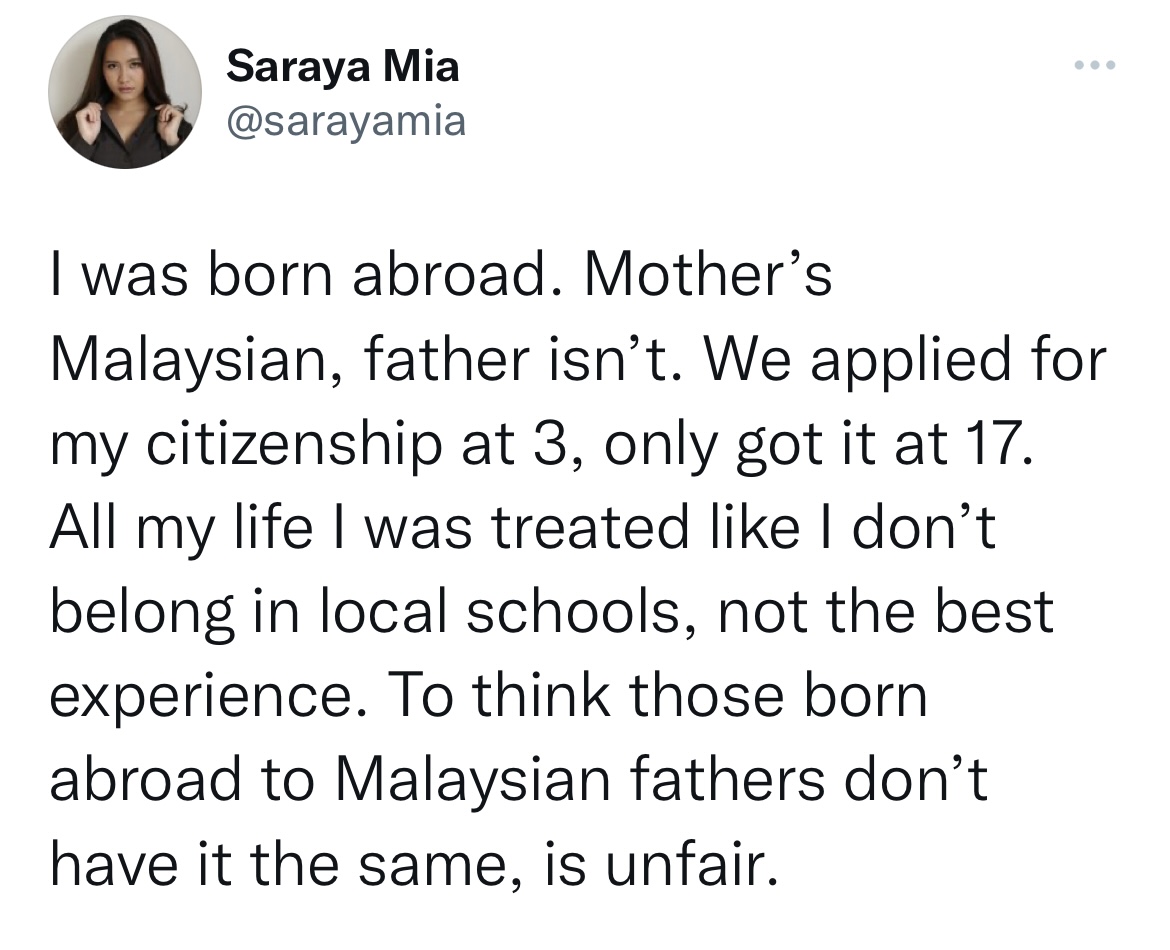 At the end of the day, it is the children who suffer from this unjust ruling
However, with the government's appeal against the High Court, Malaysian mothers felt as though justice was being delayed.
"By appealing against the decision, the government has delayed justice not only to Malaysian women but their children and extended families. Justice delayed is justice denied."
In just 24 hours, more than 10,000 people had signed the petition. As of 15th September 2021, the online petition has garnered over 13,700 signatures.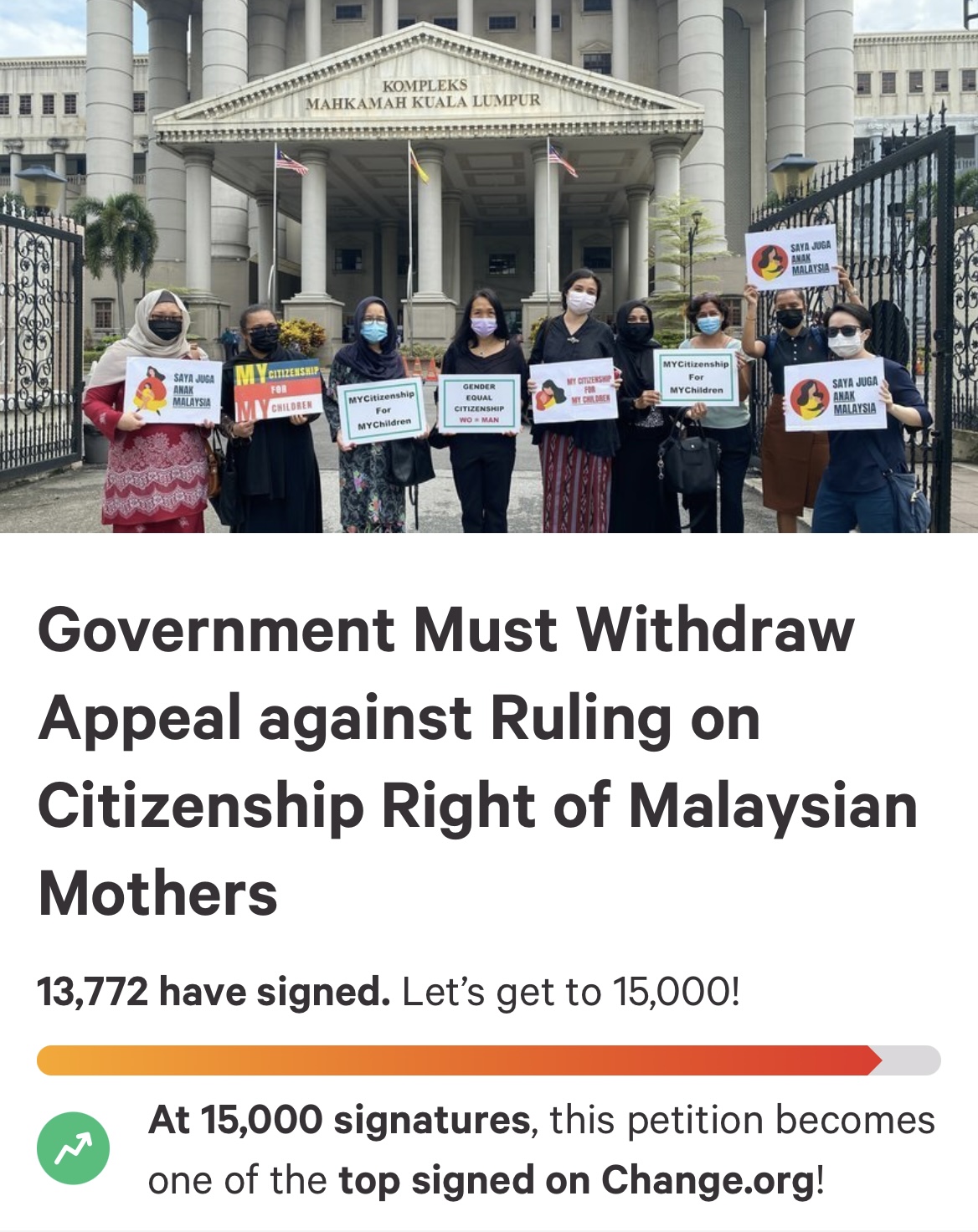 Malaysians will always have each other's backs when it comes to bringing about justice
The petition was addressed to 6 decision-makers including Prime Minister Datuk Seri Ismail Sabri Yaakob.
Many people took to Twitter to share their thoughts regarding the government's appeal calling out the government for upholding such an unfair and sexist rule.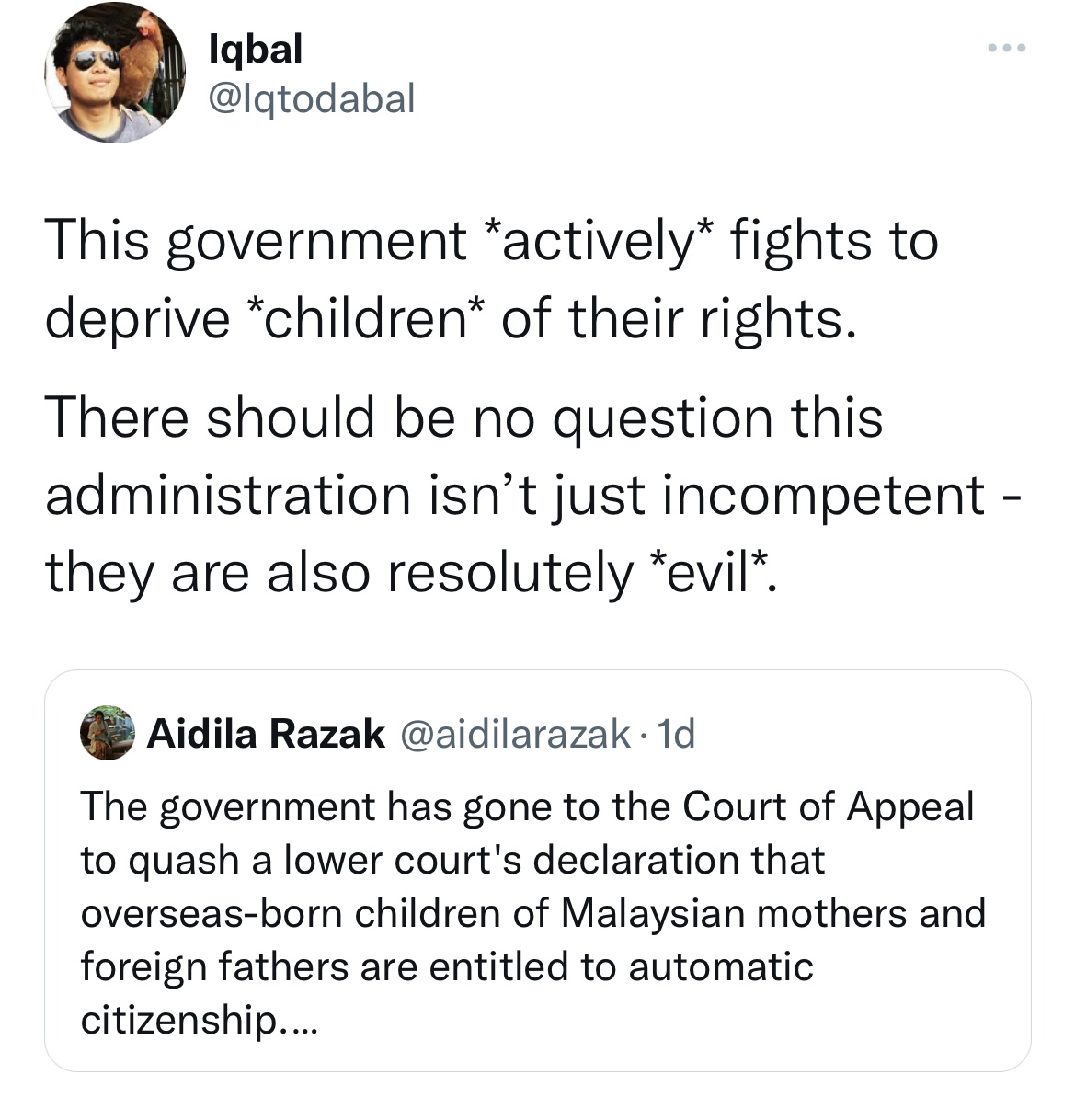 People did not hold back with their opinions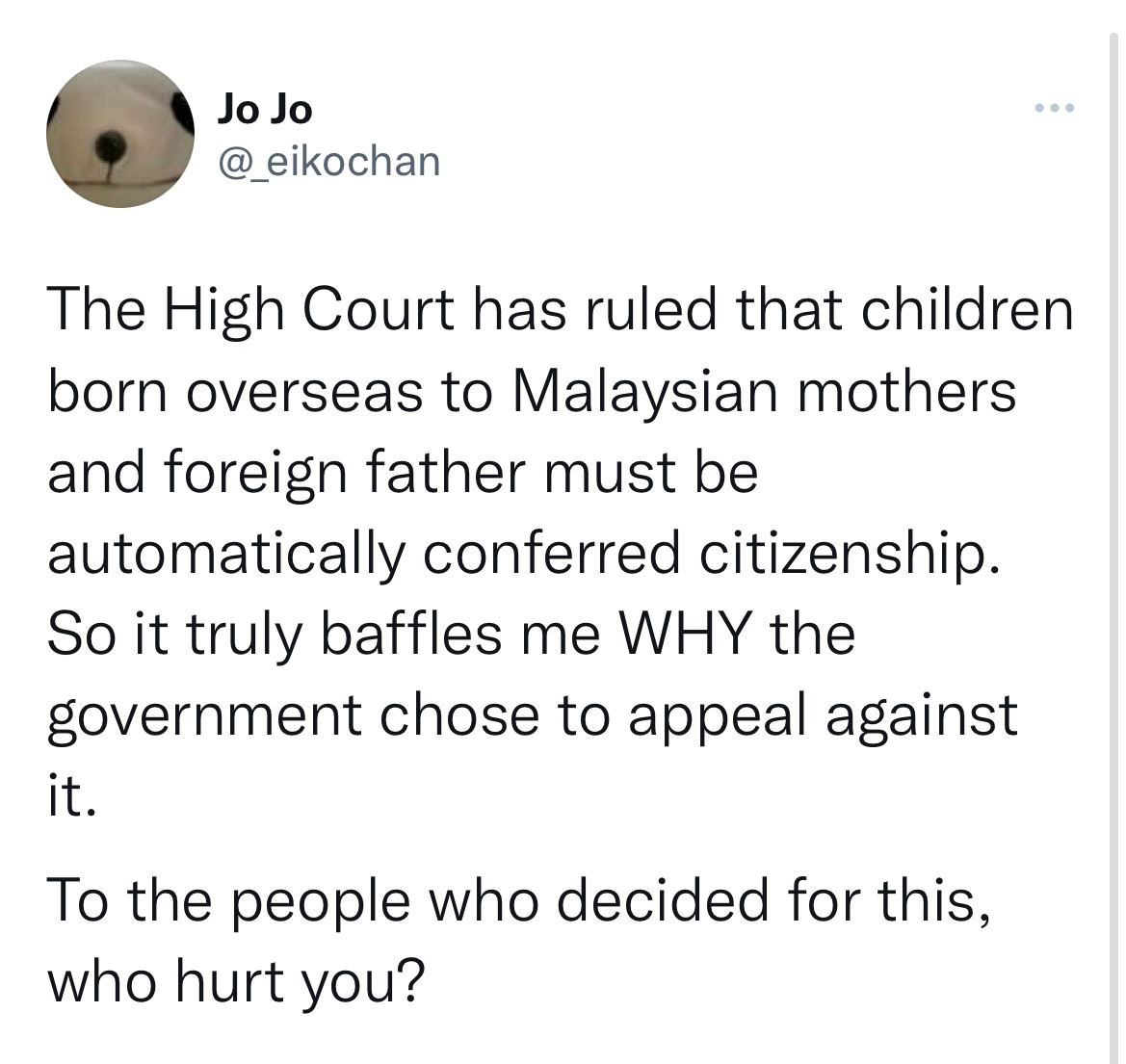 This person is asking the hard-hitting questions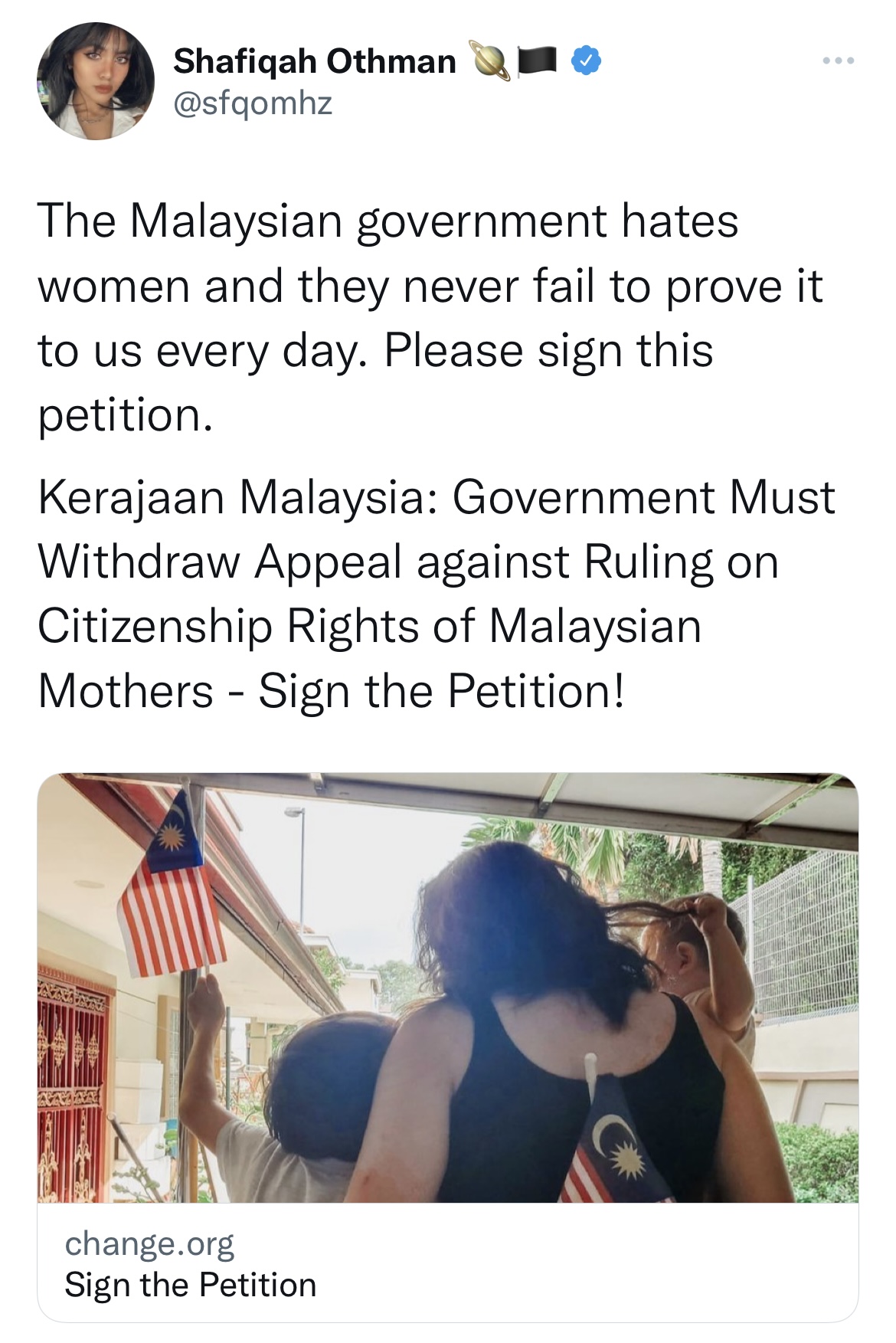 Does it all boil down to sexism and misogyny?
As of now, Communications and Multimedia Minister Tan Sri Annuar Musa has stated that the Cabinet will look into the matter.
"I am of the view that we must listen to the voices of Malaysian mothers."
De facto Law Minister Wan Junaidi stated that he will give his input when the issue regarding the government's decision to appeal the court ruling is brought up during the Cabinet meeting.
"I am sympathetic with them (the six Malaysian mothers who filed the suit in the High Court)".
Former Deputy Minister of Women, Family and Community Development Hannah Yeoh stated that sympathy is not enough. Action must be taken to ensure that these Malaysian mothers are treated equally.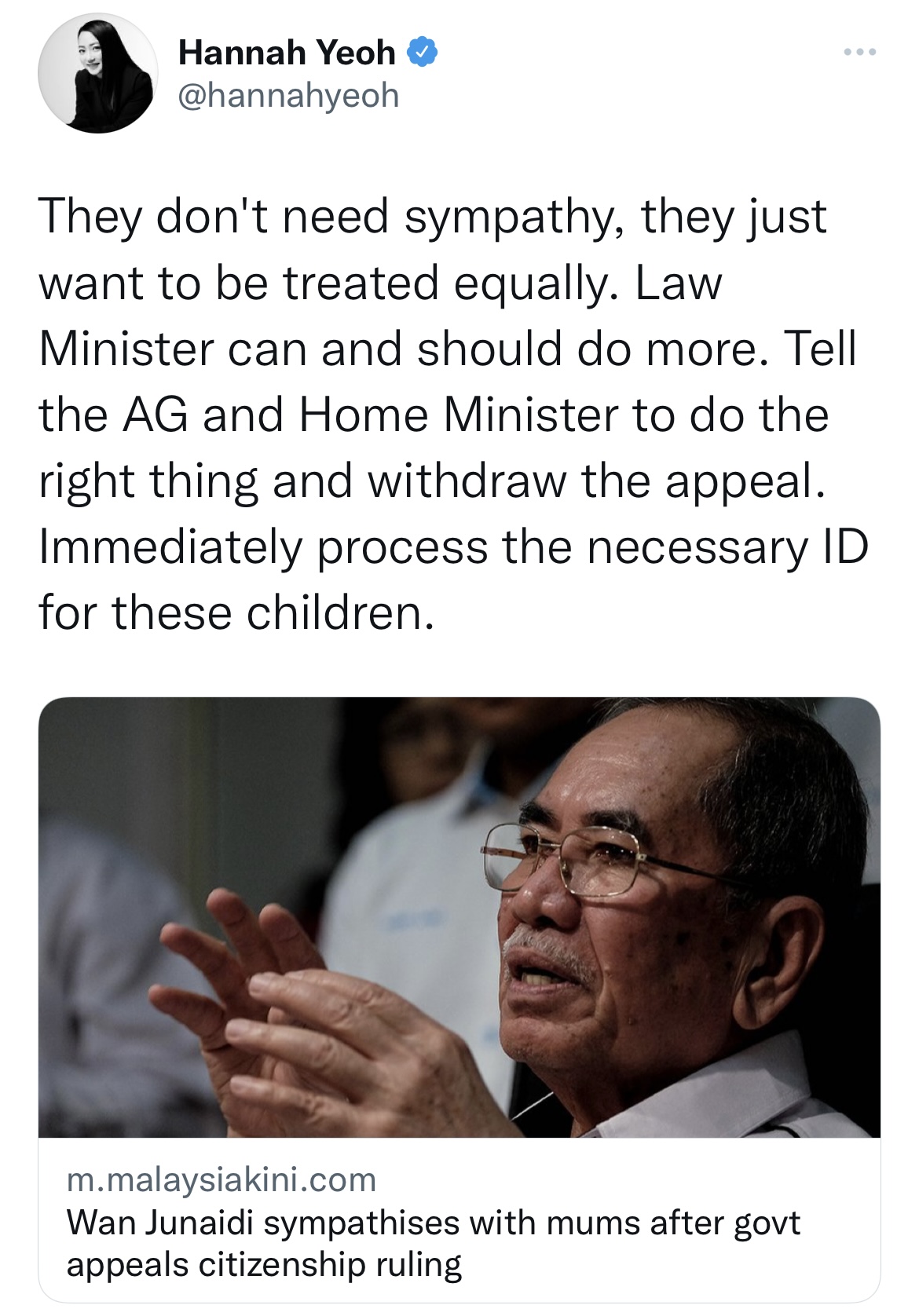 Hannah Yeoh is right, actions speak louder than words, especially in this case
You can cast your signature towards the petition here. These Malaysian mothers need all our help in order to receive the justice and equal rights that have been denied from them for too long.
We can only hope that Malaysian mothers will finally be seen as equal as Malaysian fathers and that those in power will grant Malaysian mothers the justice they deserve. Because at the end of the day, it is the innocent children who end up suffering due to this discrimination.
*Sources: Visual and Reference Credits to Social Media, Malay Mail, & various cross-references for context.
FOMO much? Follow our Facebook and Instagram for more updates.